The project "Youth and indigenous peoples' involvement in climate change adaptation in the Arctic and Barents region (ACAF)" was launched in The Arctic Frontiers 2023 Moving North conference in Norway in January 2023. The ACAF carries the acronym of its predecessor project "Arctic Network for Climate Adaptation and Food Security" for practical reasons: work can be continued under the same webdomain and website! You can still find all the old ACAF materials from the website, under "ACAF 2019-2021" on the upper right corner.
The new ACAF has a slightly different focus than its predecessor. While we are still focused on networking, we concentrate on youth.
The overall objective of the project is to promote adaptation to climate change through networking and research in the food, tourism, and forestry sectors in the Arctic region, with a particular focus on the Barents region.
Specific attention will be paid to:
1) indigenous peoples' and indigenous youth participation and involvement in the design and practical implementation of climate change adaptation measures and the use of traditional knowledge to support adaptation actions;
2) involving and engaging young people living in the Barents region in the design and practical implementation of climate change adaptation actions.
While we have been actively working behind the scenes, now it is also time to actively promote our work through this website and also through social media. We will use both platforms to announce our events and publish our results. So stay tuned, participate and connect!
Wishing all a relaxing summer,
The ACAF team.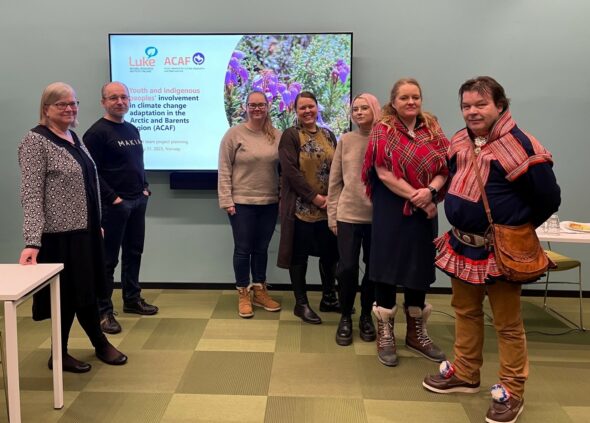 From left: Seija Tuulentie, Pasi Rautio, Jaana Sorvali, Niina Kautto, Daria Makhotina, Suvi Juntunen and Klemetti Näkkäläjärvi from the ACAF team. Missing from photo: David Natcher.