ACAF and ArcticHubs projects joined their forces at the Arctic Circle Assembly 2021, by organizing a panel discussion on Arctic food security and solutions for resilience. The panel was opened and moderated by Research Scientist Jaana Sorvali, Natural Resources Institute Finland.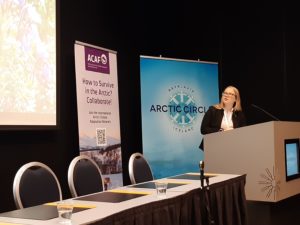 Picture 1 Research Scientist Jaana Sorvali from the Natural Resources Institute Finland opened and moderated the session. 
After Jaana Sorvali opened the event by introducing the two projects, all three panelists gave brief presentations as opening remarks.  
Research Professor Seija Tuulentie from Natural Resources Institute Finland talked about resilience in the Northernmost part of Finnish Lapland. Using the arrival of an invasive species, Pink Salmon (Oncorhynchus gorbuscha), as an example, Prof. Tuulentie discussed resilience in Utsjoki municipality, a small northern, mostly indigenous community. Pink Salmon is feared to threaten the original wild salmon population in the Teno River, at the border of Finland and Norway. The local community has adopted different ways of responding to this potential threat. To replace fishing, they have started to look at different options, like tourism.  
Dr. Anna Guðrún Edvardsdóttir from Holar University, Iceland, talked about aquaculture in Iceland. Aquaculture is a growing industry there, a supplementary livelihood to traditional fisheries and agricultural production. However, the aquaculture companies have placed themselves in rural communities where depopulation and economic stagnation has been the reality for many years. As the industry grows bigger, the communities are having difficulties in developing their infrastructure in order to meet the industry needs. How communities will adapt to the changes shows how resilient they are.  Climate change is a big challenge to the industry due to warmer oceans, sea level rise and ocean acidification.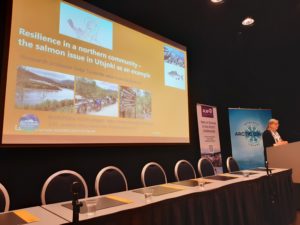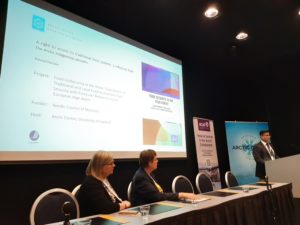 Pictures 2-4 Research Professor Seija Tuulentie, Natural Resources Institute Finland, giving her talk on the arrival of Pink Salmon to Utsjoki. Dr. Anna Guðrún Edvardsdóttir from Holar University, Iceland talked about aquaculture in Westfjords, Iceland from the viewpoints of climate change and resilience. Research Professor Kamrul Hossain from Arctic Centre, University of Lapland, Finland talked about the access to traditional food systems as a human right for Arctic indigenous peoples. 
Research Professor Kamrul Hossain from the Arctic Centre of the University of Lapland, Finland talked about the rights of Arctic indigenous peoples to access traditional food systems. Traditional food systems, according to Prof. Hossain, consist of activities in which food is collected or produced from locally available natural resources, shared and consumed locally as part of customary food practices, and processed for wider distribution both locally and in wider geographical contexts. Traditional food systems offer both food security and food sovereignty, which is particularly important for indigenous communities. Importing of food produced outside the region is not excluded by traditional food systems. Access to traditional food systems is a human right to indigenous peoples, supported by several policies and conventions, including the Universal Declaration of Human Rights, and the ILO 169 Convention.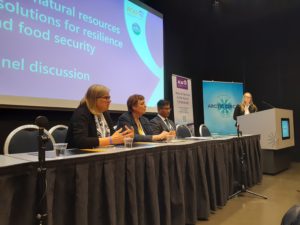 Pictures 5-6 The panelists engaged in active discussions on resilience and food security in the Arctic. 
In the panel discussion, themes such as aquaculture and food security received the most attention. 
While being able to rely on traditional food systems is a good goal, one of the problems nowadays is that traditional foods like fish are contaminated in some parts of the Arctic, as Prof. Hossain noted. In the Nordic Arctic, traditional foods are accessible, however less available as you can easily rely on food imported from outside the region.  Increasing food production levels can increase the accessibility and affordability of food, but the impact on nutrition levels is uncertain.   
Technological innovation can strengthen food security, but there are also other sides to that. According to Jaana Sorvali, traditional farmers may oppose new technologies. Farmers have traditionally understood their land as their core resource, and farming is still very much based on the land. New technologies can challenge that perception. Dr. Anna Guðrún Edvardsdóttir noted that there is also land-based aquaculture in Iceland. However, as it requires a lot of land, it's not a viable option at present, but could be in the future. 
Prof. Tuulentie pointed out that food is a lot about culture, not just nutrition. For instance, indigenous Saami people in Northern Scandinavia don't like to eat pike, but it's nutritious and good food in many ways.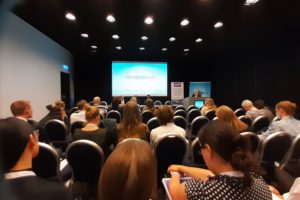 Picture 7 The session raised a lot of interest among the audience. Almost all seats were taken in the session room. 
The panelists also shared their insights on the future of the Arctic as climate change affects the region. 
Prof. Tuulentie expects more conflicts will be expected between different livelihoods. Also the AMAP's Adaptation Actions for a Changing Arctic (AACA) project emphasized that the changes that communities need to adapt to are cumulative and caused by different factors, besides climatic change. For example, for reindeer herding, windmill farms and tourism and other increasing land use pressures are like different layers in the cake and can bring new difficulties for reindeer herders. However, the effects aren't necessary only negative, but positive effects are also possible. 
Prof. Hossain concurred Prof. Tuulentie's view on the importance of seeing climate change as just one of the societal changes that influence the residents of the Nordic Arctic and their livelihoods. Concerning food security, Prof. Hossain emphasized that power has to be shared so that indigenous peoples can make decisions on their own issues. The supply of resources for producing sustainable locally harvested food can support maintaining the traditional food systems in the region. Traditional foods from traditional resources could then compete with shop bought food. This contributes also to food sovereignty: indigenous peoples should have a chance to say how they want to organize their food issues.  
Dr. Hossain noted also that we'll have to adapt to immigration in the North as climate and weather get worse in warmer countries. Currently Northern residents and countries aren't really prepared to that. Highly skilled workforce from abroad is welcomed by official policies, but people may come in big crowds. 
Dr. Anna Guðrún Edvardsdóttir shared her insights on adaptation also on a more philosophical level. Firstly, the talk about climate change and adaption is typically quite human-centered, and technological innovations are hoped – and expected – to solve our problems. In Dr. Anna Guðrún Edvardsóttir's view we should, instead, change our behavior and reconsider the meaning of wellbeing and the quality of life. These perceptions are deeply embedded in the culture, and culture is so difficult to change. On the other hand, attempts to solve problems can lead to new ones. We think we have a solution, but when we find one, another problem arises. For instance, if we all start driving electric cars for mitigating climate change, a new problem arises: how are we going to produce all the batteries needed for the cars, considering also the natural resources required.  
In practice, many Arctic communities are rather resilient in terms of food security. Dr. Anna Guðrún Edvardsdóttir doesn't see that food security would be a problem for most Arctic communities even in exceptional circumstances. For instance, food security wasn't an issue to be concerned about even during a serious snow avalanche in Iceland back in 1995, when 35 lives were lost and houses buried in snow. People in villages are always prepared for exceptional weather that can keep villages and households isolated for periods of time, including having plenty of food in their pantries.   
* * * * * * *  
The Arctic Circle Assembly (https://www.arcticcircle.org/) is the largest annual international Arctic conference in the world, to which more than 2000 participants from over 60 countries usually participate. In 2020, the event couldn't be organized due to the pandemic, but with strict covid safety measures the event could be organized as an in-person-meeting again this year. 1300 participants met in Harpa Concert Hall and Conference Centre in Reykjavik. No Covid-19 cases were reported from the event.   
Tweets and photos from the session by Ilona Mettiäinen, Natural Resources Institute Finland, can be found under the ACAF project's Twitter account @AcafFinland.     
Text: Ilona Mettiäinen, Natural Resources Institute Finland and Dr. Anna Guðrún Edvardsdóttir, Holar University, Iceland
Photos: Ilona Mettiäinen, Natural Resources Institute Finland